The Road to Quality Service is Never-ending
A passion for training and a high-quality workforce is what drives the Laborers Training School in Azusa, California. It is evident in all the students, instructors and management who are involved with the program. In existence since 1969, the school has continued to grow and evolve through the years and has established itself as a model program. It is the only construction training program in California accredited by the International Accreditation Service both as a training agency and for its curriculum development.
"Our approach to training has totally changed the landscape for the apprenticeship world. Where once Laborers weren't given the respect we deserve, we are now leading the industry in best practices for apprenticeship programs throughout the country. It comes down to how tenacious you are and how you challenge your management staff to continue to improve and adapt to changing industry needs," says Scott Gordon, Executive Director of The Laborer's Training School.
The school started in Anza, California and training was originally scheduled in six-week increments with students staying in on-site dormitories to avoid having to travel to its remote location. However, as the demand for training increased and as curriculum evolved, providing a year-round, regular training schedule became necessary. In 2003 the school moved to its current location in Azusa and began offering training on a weekly basis. The Laborers Training School also established its "mobile training" program, which is able to take training materials and equipment to contractors in remote locations to make training even more accessible.
The school's commitment to quality and workforce advancement was accompanied by the belief that it is essential to have students' training and investment be recognized at the state level. This notion led them to submit Standards for the Construction Craft Laborer Apprenticeship Program to the Department of Industrial Relations, Division of Apprenticeship Standards. The Standards were approved in 1999.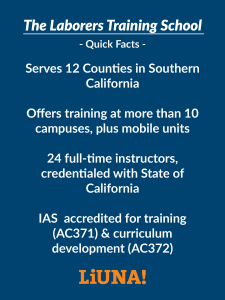 Never one to settle for mediocracy, Gordon, with the support of his leadership, wanted to go further to solidify their program among the best in the industry. In 2011, the Laborers' Training and Retraining Trust of Southern California received third party accreditation as a training agency through the International Accreditation Service, Inc. (IAS). Later in 2015, the Trust obtained accreditation through IAS for curriculum development.
The International Accreditation Service is an independent verification that holds organizations to a high and exacting level of standards, guaranteeing a professional and competent program, qualified trainers, and nationally-recognized curricula development. As an accredited organization, the school is expected to maintain top industry standards and keep their programs up-to-date and relevant in a constantly improving industry.
"It is a commitment to continuously review our practices and services provided to our customer base," states Gordon.
Accreditation is a rigorous process that requires measurement of current practices against accreditation criteria.  As an accredited training agency, it is required to maintain a quality management system comprised of standard operating procedures, internal audits and management reviews for each major function of the organization. As an accredited training agency that develops curriculum it requires technical and subject matter expert participation in the review and approval of all curriculum used for training. It requires the formation of Advisory Committees where contractors, workers, awarding agencies, local union representatives and trustees work together to improve programs and curricula to industry standards.
https://youtu.be/6VKp_Qtssno
Today The Laborers Training School has accredited courses including General Construction, Process Piping, Forklift Safety, Skid Steer and Aerial Boom Lift to name a few.
Gordon acknowledges that receiving and maintaining accreditation is hard work, but he believes in staying ahead of the curve. He believes that the procedures implemented through the accreditation process have formed a culture that does not fear evaluations, but rather welcomes them. His desire is that the school's instructors and staff serve as role models to its students and that this culture is transfused into their core work ethic.
The Laborers Training School's programing is also rigorous and that means not all apprentices will make the cut. Gordon says, "if you are doing your job, you are weeding out people who can't meet the basic requirements. It is difficult, but we want the best people working for us."