The men and women of the Laborers' International Union of North America (LIUNA) and their employers are a key component to building and maintaining the public infrastructure systems of our communities. These systems, such as roads and bridges, water supply systems, and schools, are essential to the everyday lives of our families, the economic prosperity of our businesses, and the vitality of our communities.
As important as infrastructure is to our communities, the necessary improvements to these systems have been neglected for far too long. The American Society of Civil Engineers' (ASCE) 2017 Report Card for America's Infrastructure rated the condition of our country's infrastructure a D+. The rankings for California, Arizona, and New Mexico fare slightly better, but there is still much to be done.
Read the Facts
$3.6 trillion will be needed to maintain and upgrade our country's infrastructure by 2020
Arizona ASCE Report Card
California ASCE Report Card
New Mexico ASCE Report Card
Cumulatively for the three states:
Roads – 59% are in poor or mediocre condition
Schools – $32 billion needed for infrastructure improvements
Bridges – 25% are structurally deficient or functionally obsolete
Water and Wastewater – $80 billion needed for improvements and upgrades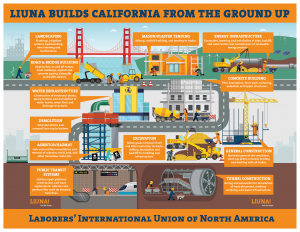 Public infrastructure and private development projects may well be considered investments in a community. Studies indicate that every dollar spent on infrastructure construction produces roughly double in economic output. The economic impact numbers are similar for private development as well. Quite simply, construction projects provide a direct benefit to local contractors and their workers, but also indirect and long term benefits to non-construction businesses and the community at-large.
As a partnering organization, LIUNA is dedicated to helping communities realize the full benefit of investing in public infrastructure and private development projects. Working with local residents, local contractors, and local stakeholders; LIUNA builds people, LIUNA builds projects, and LIUNA builds communities. Find out how.
LIUNA Builds People
LIUNA builds people by providing them the opportunity to earn a career that can support a family. LIUNA works with community based organizations and other partners to identify community residents that have the determination and desire to work in the construction industry. These opportunities often start with apprenticeship; which provides the training, knowledge, and skills necessary for a long-lasting career. Contact a local LIUNA Training center to find out how LIUNA puts local residents to work.
LIUNA Builds Projects
LIUNA builds projects from beginning to end. LIUNA members and their contractors are involved in every phase of construction and every type of project. From schools, roads, utilities, commercial buildings, residential developments and everything in between; LIUNA and its contractors build it. Search our Contractor Directory to find contractors that build with quality and value at the forefront of everything they do.
LIUNA Builds Partnerships
LIUNA builds partnerships by working with public and private entities, elected officials, contractors, developers and other community stakeholders. Together, LIUNA and its partners are advocates for infrastructure investments that will improve the quality of life for residents and provide real assets that benefit local communities. If a project will create local jobs, improve the local economy and create value for the local community; LIUNA and its partners will work to see it through. Find the nearest LIUNA office to build a partnership with your community.
To have LIUNA BUILD a partnership with your community or organization please send us a message.