Laborers and their contractors are proud of their work on structures and projects throughout the Southwest. LECET Southwest promotes the image of Laborers and their signatory employers to owners, construction users and the general public in industry trade publications, at trade shows and job fairs, and through a wide variety of marketing media. Whether in the pages of Engineering News-Record or in marketing and public relations materials, LECET Southwest conveys a simple message: being a Laborer and building with LIUNA signatory contractors means being devoted to quality, value, and safety.
However, in the construction industry, contract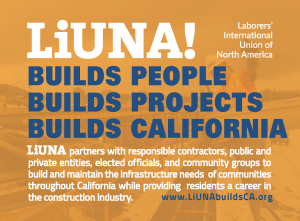 awards often grow out of relationships. So, in addition to utilizing typical marketing campaign media, LECET Southwest and the Laborers take the message of quality, value, and safety directly to decision makers. On a constant basis, LECET Southwest and LIUNA sit in the board rooms of public contracting agencies, private developers, elected officials at every level, and advocate at public hearings to promote the value of union construction.
We build and maintain relationships that can lead to contract awards, so put our contacts to work for you.
Sample marketing materials can be found in the Media section of this website.