The Laborers don't just sit by the phone waiting for the next job to come in. The Laborers' Union and LECET Southwest operate like a business. We seek out market opportunities for LIUNA members and their employers. And we work with employers, owners, and construction users to identify and meet their training, workforce, and safety needs.
LIUNA and its various affiliates conduct a wide range of sophisticated market research that responds to owners' needs while preparing Laborers and contractors for the opportunities that lie ahead. We research and access data in all market segments, including public works, industrial, energy, private commercial, transmission and more.
LIUNA also leads the industry in tracking its own share of key construction markets. Over the last decade LECET Southwest has worked with LIUNA to track more than 38,000 projects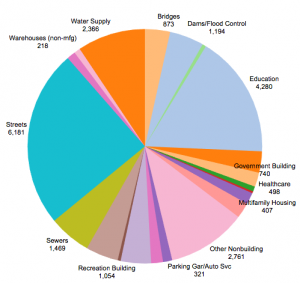 worth nearly three hundred billion dollars. This continual assessment ensures that resources are targeted correctly to take full advantage of any future opportunities.
Laborers also work with contractors to help them find work in specific markets and specialties. Contractors looking to work in new market segments, new market locations or with new contracting partners can utilize the resources of LECET Southwest and LIUNA to help determine the best course of action.
Laborers and their contractors seek to be market leaders because we strive to set industry standards in wages, benefits, performance, value, and safety.