It is a particularly hot summer day when we met Heather for the first time. However, the heat didn't damper Heather's enthusiasm for her job as she showed us around the site. Heather is working as a company safety representative at a water treatment project that is currently under construction. After working in the field as a Laborer for a few years, Heather joined the safety department in August of 2017. Now she has responsibility for the well-being of about 280 job-site personnel.
Heather's advancement with LIUNA is not unique – LIUNA provides on-going training and opportunities to its members so they may continue to grow their skills and earn better wages. But Heather's path to success is particularly sweet because of her personal history. Prior to becoming a Laborer, Heather served nearly three years in California's correctional system. For people in Heather's position, it can an incredible struggle to get their lives back on track because not all industries or employers are willing to provide a second chance opportunity. But thankfully for Heather, she was able to overcome those challenges.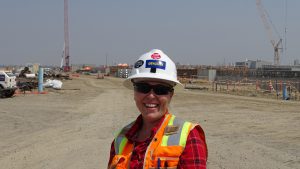 "When I first got out, I applied to jobs and I never got a call back. I worked customer service for 10 years, but when they asked that question of 'have you been convicted of a felony' and you put yes, they don't even give you a call back. And it's not only employment that you struggle with, it is finding a house, or an apartment to rent. Nobody wants to rent to you with a felony. To me it is by the grace of God that I got this job and got into an apartment. That led me to my own independence."
Heather joined LIUNA's apprenticeship program in Northern California in 2014. While she is now a journeyperson, she has continued to take classes and get more certifications so that she can continue to progress at her job. Heather enjoyed working in the field, but now that she is with the safety department, she enjoys talking to people in the field to see what they might need, or to get their suggestions on ways to improve job-site conditions. She says, "People can talk to me, they know that I care."
Heather believes strongly in the value of her union and stresses its importance in being able to provide for her family. She sees people who are struggling, working two or three jobs and still not making ends meet and she is grateful for her opportunity to earn a decent living, to have benefits and to have upward mobility. She now owns her own home and car, just a few years after getting out of the correctional system.
Heather believes so passionately in the benefit of LIUNA that she tries to recruit others: "I tell people the union has orientation Tuesdays and Thursdays. They will direct you on what to do, put you on the out of work list. They'll help you get work, they'll train you for free. You earn while you learn."
"To me, LIUNA is like the land of second chances. I'm not living plush, but I'm living kind of a nice life with just with one job. Yeah, it's hard sometimes, yeah I went home crying sometimes, but it is worth it because you can take care of your family. And not to mention how proud my mom is of me; how proud my family is."
Heather says, "I took a little detour. But I believe that I am now where I am supposed to be. It has been a blessing."
We agree Heather is where she is supposed to be. LIUNA proud.