638 New LIUNA Journeymembers Enter Southern California's Construction Industry
Another Record Number of Apprentices Graduate in 2019
Azusa, Calif. – (Business Wire) – The Laborers' Training and Retraining Trust of Southern California celebrates the advancement of 638 apprentices to LIUNA journeymen and journeywomen status at the 2019 Apprenticeship Graduation Ceremony on Saturday, January 18, 2020.
"These new journeymen and women should be proud of themselves because this is a milestone moment for them professionally and personally. This achievement will bring so many great opportunities to grow their careers, but more importantly, provide for their families." says Jon P. Preciado, Business Manager of the Southern California District Council of Laborers (SCDCL). "Their dedication to their apprenticeship is reflective of this Union's commitment to the construction industry. I congratulate them on behalf of the 30,000 LIUNA members in Southern California."
Over the last five years, nearly 3,000 LIUNA apprentices have graduated from one of the programs sponsored by the Laborers' Training and Retaining Trust of Southern California. For the class of 2019, the Construction Craft Laborer Apprenticeship graduates 607, the Laborers' Landscape & Irrigation Fitter Apprenticeship program graduates 18, and the Laborers' Cement Mason Finisher Apprenticeship graduates 13 new journeypersons. At the present time, the Laborers' Training School has more than 2,300 indentured apprentices.
"The staff at the Laborer Training School has doubled down on their efforts to meet the needs of our members and our contractors. In fact, we trained nearly twice as many students in 2019 as we did just five years ago." says Scott Gordon, Laborers' School Executive Director. "But the pride we have in our training program is exceeded by the pride we have in these new journeymen and women. They are on the front lines of the industry and will help shape its future for years to come."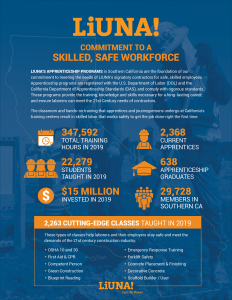 The Laborers' Training and Retaining Trust of Southern California is a partnership between the SCDCL and its signatory contractors. The Laborers' School operates 12 facilities in Southern California and provided 347,592 hours of construction skills training to 22,279 students in 2019.
The Laborers' School offers:
– 12 training sites and five mobile training units that bring training to any location
– More than 140 courses that meet or exceed industry standards
– Three California-Apprenticeship-Council-approved apprenticeship programs
– Instructors credentialed by the California Commission on Teacher Credentialing
– Training processes that are accredited (AC 371) by the International Accreditation Service (IAS)