Seven Things You Need to Know About the Laborers' Training Programs
Skilled and trained laborers make all the difference on a job site, find out why
Who you hire makes all the difference on construction and infrastructure projects. An underprepared workforce can result in errors that cost contractors time and money, or worse in injuries on the job site. Apprenticeships and training programs are critical to ensuring a safe, efficient and successful worksite.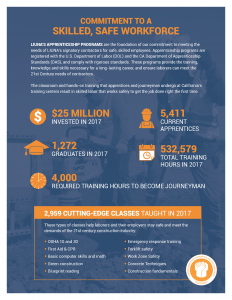 "We take great pride in our training facility and the investment we put into our workforce," said Leonard Gonzales Executive Director, Laborers' Training & Retraining Trust Fund for Northern California. "Each year our facility invests $3-5 million in ensuring our contractors have a skilled workforce. Our journeymen have 4,000 hours of combined classroom and field experience that prepares them for whatever the job demands."
Statewide Laborers' International Union of North America (LIUNA) invests millions each year to ensure that its members are well-trained and ready to work. LIUNA's training and apprenticeship programs, which combine classroom learning with hands-on experience, make certain their members have the needed skills to succeed on a 21st century construction site.
"We work closely with our signatory contractors to develop our curriculum and to respond to their changing needs," said Scott Gordon, Executive Director of The Laborers Training School & Apprenticeship Program in Southern California. "We recently worked with our signatory contractors to incorporate tilt-up work processes into our curriculum because in Southern California tilt up construction is booming due to increased online commerce and the need for online retailers to meet their distribution and warehousing needs."
Here are seven facts about LIUNA's training and apprenticeship programs that provide contractors peace of mind:
1. ) State and Federal Oversight. Apprenticeship programs are registered with the US,Department of Labor (DOL) and the CA Department of Apprenticeship Standards (DAS) comply with rigorous standards.
2.) Focus on Safety. LIUNA members undergo extensive training in OSHA 10 and 30, first aid and CPR, forklift and work zone safety, emergency response and more. Construction job sites demand high standards in safety.
3.) $25 Million Invested Each Year. Each year in California alone LIUNA invests $25 million in its training and apprenticeship programs. These programs provide hands-on and state-of-the-art instruction from qualified professionals with extensive experience working in the construction industry.
4.) Over 500,000 Training Hours In 2017. In 2017, California LIUNA members completed 532,579 training hours. This not only includes those individuals in the apprenticeship program, but journeymen and women who continue to improve and update their skills on an on-going basis.
5.) 21st Century Skills. LIUNA's training and apprenticeship programs meet modern technological construction needs. Laborers undergo basic math and computer training, which are becoming increasingly important on worksites as technology advances.
6.) Becoming a Journeyperson is Not Easy. It requires 4,000 training hours in order to become a LIUNA journeyman. That means that journeymen and women are highly-trained professionals who have invested extensive time and energy in their career, and carry the experience necessary to get the job done right.
7.) Pre-apprenticeship Programs Put People on Path to Success. LIUNA has several pre-apprenticeship programs in partnership with community-based organizations that serve as a pathway toward becoming an apprentice – and ultimately a journeyman or woman. These programs provide opportunities and second chances to people that need help, such as high-risk youths, the under employed and others struggling to make a better life for themselves.
To learn more about LIUNA's training programs in California, find the Training Center nearest you.