Katherine "Kat" Norve had a comfortable job working as an executive assistant at a public relations firm, but office life just was not the right fit.
"I had a nice office window at the PR firm but always felt like I wanted to be outside," Norve says. "I made good money back then, but not the money I am making now, plus the benefits, like a pension for retirement."
While women make up a majority of the population, they are a distinct minority on construction sites, making up less than 3% of those working in the construction trades.
In a male-dominated industry, women may have to work a little harder to find their way, but Norve found the road toward success.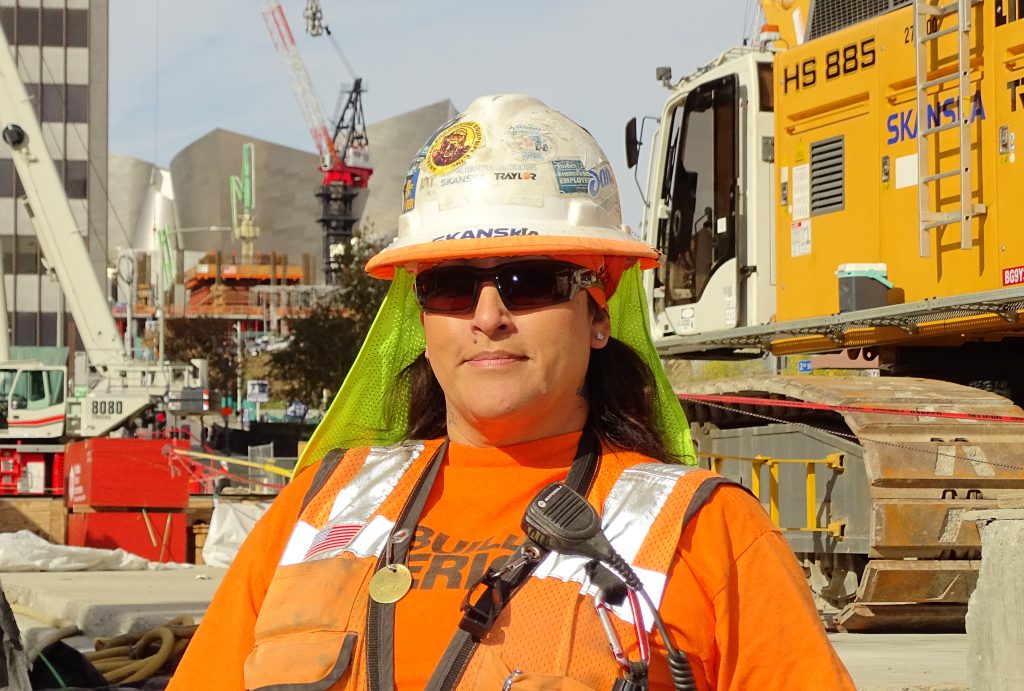 Since completing a pre-apprenticeship program, Kat Norve has embarked on a successful and rewarding career as a union laborer and shop steward with LIUNA Local 300.
She entered into a nonprofit training program, Women in Non-Traditional Employment Roles (WINTER), which provides 10 weeks of pre-apprenticeship training and exposure to career options in the building trades. After that, Norve found her way into a laborer apprenticeship with LIUNA Local 300. "I decided to join the laborers union because of all the job opportunities they had, how supportive they are of women and the classes they have at the training center in Azusa," she says.
WINTER is one of nearly 40 pre-apprenticeship partnerships formed by Laborers International Union of North America (LIUNA) through its training centers in both Northern and Southern California. These partnerships are helping to address the shortage of qualified workers in the construction industry by providing a pathway to success and the middle class.
In addition to targeting women, the various partnerships also reach out to other demographics underrepresented in the construction industry. There are partnerships focused on veterans, minorities and at-risk students. Other groups help those coming out of homelessness or incarceration to develop the skills and work ethic needed to succeed.
Among the more successful programs have been Richmond Build, Playa Vista Jobs (PVJOBS), CalPIA and Helmets to Hardhats.
An individual who graduates from a pre-apprenticeship program is much more likely to earn a laborer apprenticeship, and eventually find steady and good-paying employment in the construction industry. Contractors benefit from having access to a larger, better-skilled and more diverse workforce.
"These folks will have a head start versus those who did not go through a pre-apprenticeship because they will know what to expect," says Leonard Gonzales, executive director of the Laborers Training and Retraining Trust Fund for Northern California. "We want and the industry needs people that are looking at the trades as a career, and we believe pre-apprenticeship is a successful first step."
Since the partnerships with these programs were established, 1,459 individuals have entered into a LIUNA sponsored apprenticeship. It has provided a pathway toward a rewarding career for many of its attendees who otherwise probably would not have found their way into the construction industry.
Nearly eight years after starting her journey with LIUNA Local 300, Kat Norve is a top-lander for Regional Connector Constructors (RCC), where she was the first female employee on the $1.75-billion underground Regional Connector Transit project for LA Metro. Not long after, LIUNA Local 300 appointed her shop steward of the 180 laborers on the project.
"I am a woman out here, and I do not want to be looked at differently," she says. "I have to be toe-to-toe with these guys, even if we are out here shoveling for eight hours."
This article originally appeared in the February 3/10, 2020 edition of ENR California, http://digital.bnpmedia.com/publication/?m=39147&i=648584&p=122.