Northern California Laborers Training
Looking Toward the Future
As the sun rises over the hills of San Ramon at 6:30 a.m., members of Laborers' Training Center of Northern California are already hard at work. Their job? Ensuring the next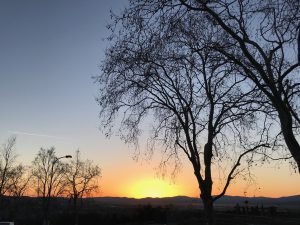 generation of Laborers have the skills they need to provide the quality workmanship that is a hallmark of hiring LIUNA members.
"We expect people to be committed and to take this seriously," said Training Director Ollie Hurd. "When we send LIUNA members out to a job site, they are a reflection of the union. So we want people who work hard, who are disciplined and who will do the best job as safely as possible."
This focus on safety and responsibility means a zero tolerance policy for drug use, for missing classes – even for being late. Not everyone makes the cut, but those who do have a long-term career with excellent benefits and a union that continues to invest in and grow their skills.
Opened in 1972, the Northern California "Terence J. O'Sullivan" Laborers' Training Center was the first Laborers training center in the US. It sits on 370 acres in San Ramon, California and covers training for individuals from the Oregon boarder to Fresno. The center's 20 full-time instructors are seasoned professionals who each have a minimum of 10 years experience working in the construction field and a teaching credential from the State of California. Annually, they train 2,000 – 2,500 apprentices, as well as journeyman getting additional training.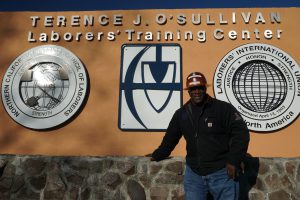 "We take great pride in our training facility and the investment we put into our workforce," said Leonard Gonzales Executive Director, Laborers' Training & Retraining Trust Fund for Northern California. "Each year our facility invests resources ensuring our contractors have a skilled workforce. Our apprentices have 4,000 hours of combined classroom and field experience that prepares them for whatever the job demands."
There are nearly 80 classes taught at the Northern California Laborers Training Center including courses on everything from First Aid/CPR to Drilling to Forklift Orientation to Concrete Coring to
OSHA to Hazardous Waste Removal. What apprentices learn in the classroom is applied in hands on training at one of several outdoor training sites at the facility, and ultimately utilized in on-the-job training on worksites.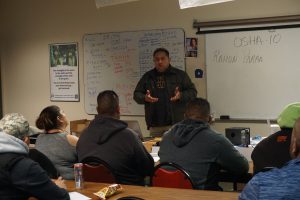 Anyone interested in becoming an apprentice can come to orientation, complete a physical fitness test, and if they pass they may apply to the program. They may also join the program if a signatory contractor agrees to sponsor them and commits to employing them. In addition, LIUNA also has several pre-apprenticeship programs in partnership with community-based organizations and the California Dept. of Corrections that serve as a pathway toward becoming an apprentice – and ultimately a journeyman. These programs provide opportunities and second chances to people that need help, such as high-risk youths and formerly incarcerated individuals.
Tony Castillo is the Workforce Development Manager for the Laborers' Training and Retraining Trust Fund. He oversees over 14 pre-apprenticeship partnerships that the Laborers have with community-based organizations and with the Dept. of Corrections. The community partners provide whole person training for pre-apprentices that include counseling, supportive services such as help with getting driver licenses and other services, while the Laborers provide hands on training.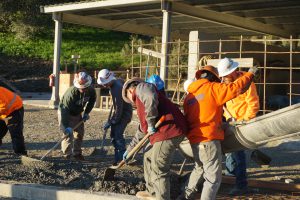 "Some of the pre-apprentices have rough pasts, but we don't discriminate," says Castillo. "If they are hungry for a chance and ready to work, there is a place for them. We don't look back – we look to the present and future."
Community partners in the pre-apprenticeship program include:
– Treasure Island Homeless Development Initiative (San Francisco)
– Fresno Career Development Institute (Fresno)
– Richmond Works (Richmond)
– Merced College Workplace Learning Center (Merced)
– Mayor's Pre-Apprenticeship Academy (San Francisco)
– State Center Community College District
Dan Sousa is the project director for State Center Community College District's (SCCCD) California Apprenticeship Initiative (CAI) grant and apprenticeship program. The CAI started in 2016, SCCCD's program is in two parts. First participants go through a six-week readiness program with Valley Apprenticeship Connections where they have a skills assessment, mentoring, counseling and other services. Next participants undergo six-weeks and 120-hour of training in construction fundamentals taught by LIUNA instructors. The training includes four weeks in the classroom at Fresno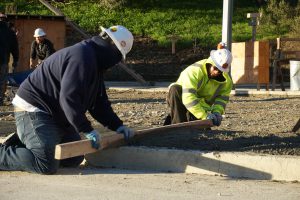 City College or local adult education sites and two weeks at Local Laborers 294, where participants are immersed in hands-on training in rebar, framing, concrete and other skills. Over the last two years, 100 people have gone through the pre-apprenticeship program, with nearly half entering into either LIUNA's or other building trades apprenticeship program on the path to becoming journeymen and women.
Sousa says: "The Northern California Laborers have been a great partner. Their instructors are highly qualified, competent trainers. Everything about working with them is professional and first rate. They are simply a great group of people to work with, and together we are changing lives and putting people to work."
Changing lives is a common theme among LIUNA members, and it is this investment in people that really makes the difference for employers. Extensive training and high expectations at all levels shines through in the LIUNA workforce. That commitment to doing quality work and can-do attitude are highlighted in Edgar Tierrablanca, a 19 year-old apprentice from Stockton, CA.
"I love it. I love everything about it – getting to use my hands and be active. When you build things, you're able to see what you have done, what you have accomplished. I've worked on bridges, box walls and other projects. Being in the Laborers' apprenticeship program has taught me that you can do anything if you put your mind to it. I'm a Laborer for life."