Instructor certification program sets LIUNA Training apart
By Bernadette Rivera, Administrator
LIUNA Training and Education Fund
Teaser: LIUNA Training's independent accreditation provides Trade Instructors with credential in adult education.
When LIUNA Training set out to define excellence in training, the organization knew that validation had to come from an independent, third-party accrediting body. Because workforce development, education and training has become increasingly competitive, it easy to say you are the best, but it is another to prove it. More and more phrases like "interactive" are used in training with little understanding of what it really means. Death by PowerPoint and asking an entire class "do you understand?" is mistakenly seen as interactivity according to John LeConche Executive Director of LIUNA Training. "I see more and more organizations using terms that do not reflect the realities of the adult classroom. Mind-numbing lecture, endless PowerPoints, excessive videos and throwing out questions to a group is not activity-based education." According to LeConche "the secret to great training is easy and it starts with understanding how people learn and retain information." There is mounting evidence that many of the mainstays of traditional education fail to engage students regardless of age. Sitting in a hard chair for 8 hours listening to a "teacher centered" monotone lesson has no value, but it remains the predominate and preferred teaching method. Not so with LIUNA Training, and that is why the decision was to not only change the dynamics of the classroom, but to allow outside validation of their methodology. LIUNA Training has set themselves apart by doing something that had never been done in the construction industry.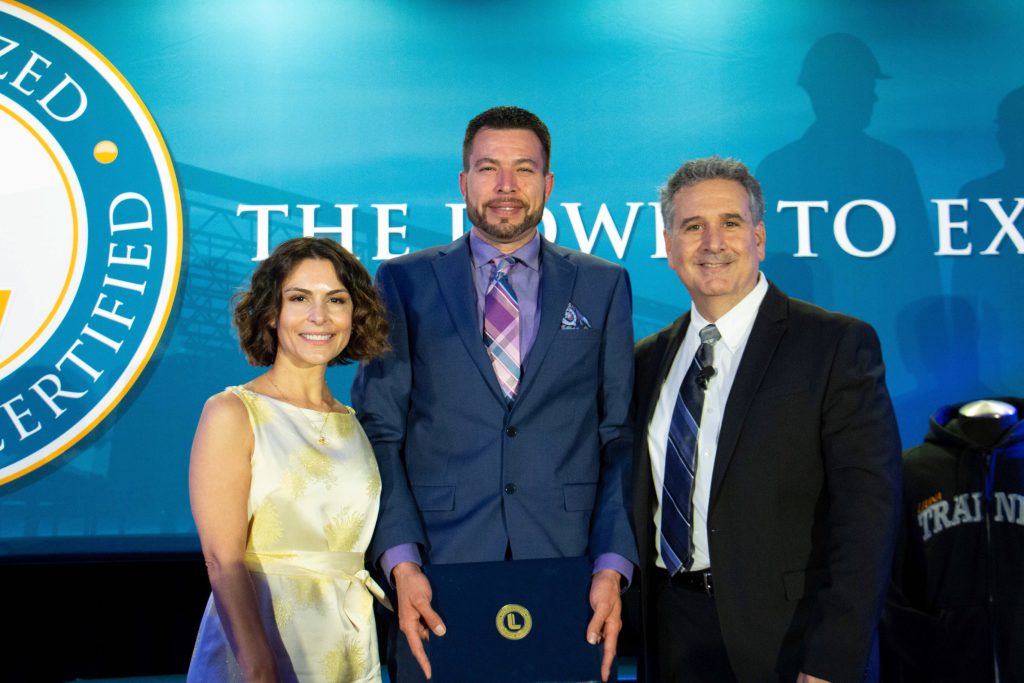 Adults learn best through engagement, calling upon existing knowledge and interaction with other learners. In addition, construction trade workers must not only know how to perform a task, they need to understand the "why" because lives depend upon it. Take a hoisting and rigging class where hands-on training in the task is important but understanding math and calculations is of greater value. If a 1000lb load is not correctly calculated it could fall killing workers and/or the surrounding public. That's the reason why the Laborers International Union of North America (LIUNA) and partner contractors have invested millions of dollars every year to support a network of 74 training centers throughout the United States and Canada. While each center is independent with a board of labor/management trustees, under the umbrella of LIUNA Training there is a set of international standards and portable credentials. Each of these centers utilizes LIUNA Training programs and services, including the DOL approved Construction Craft Laborer Apprenticeship Program, ANSI accredited Instruction Certification Program and International Accreditation Services (IAS) accredited industry training programs and curriculum.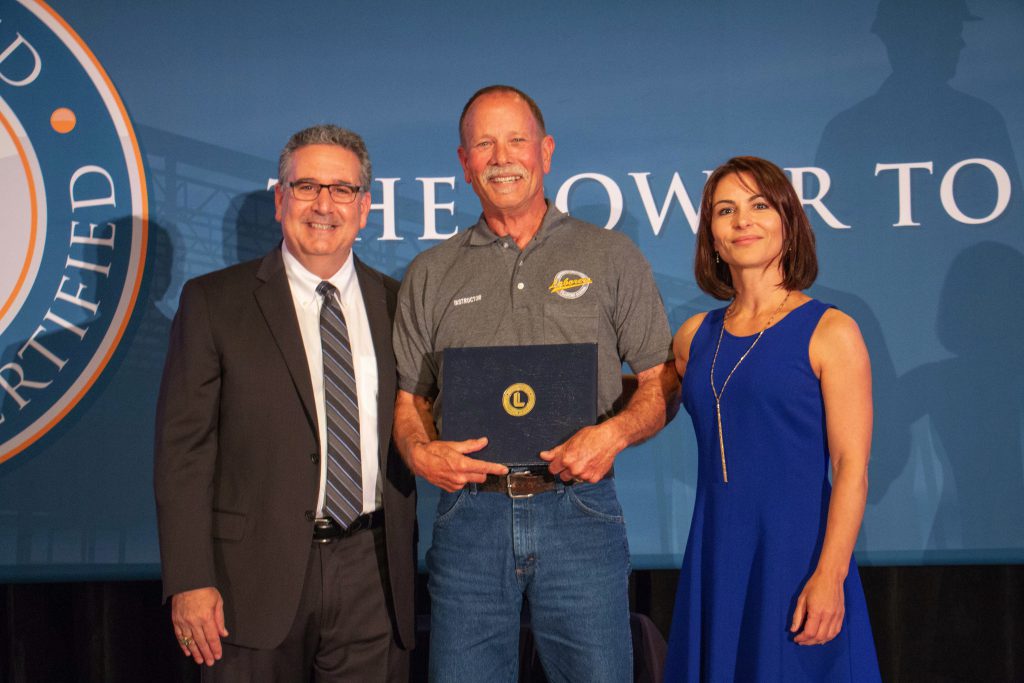 Over the last decade, LIUNA Training has broken away from the pack and charted a course that has revolutionized the industry through its ANSI accredited Instructor Certification Program. On the front lines of LIUNA Training affiliated North American network operation are hundreds of trade instructors tasked with making LIUNA's apprentices and journey-workers the industry's best workforce. Based on the data and experience gained over LIUNA Training's 50 years, the Instructor Certification Program harnesses each instructor's knowledge of the trade and combines it with the latest and best practices of adult learning to create an interactive, learner-centered classroom that any student can thrive in. With over 200,000 thousand workers trained each year, quality and consistency can never be sacrificed. Every apprentice, journey-worker and supervisor needs to be confident that the training they are receiving is the best the industry has to offer. It's the knowledge of being taught by an instructor that not only has experience in the construction industry, but who has also studied and developed the teaching skills needed to meet the rigors of LIUNA Training's ANSI Accredited Instructor Certification standards.
LIUNA Training earned ANSI accreditation for Personnel Certification Bodies in 2013 (ANSI/ISO/IEC 17024). In the process, it has found that seeking and maintaining the accreditation is not for the faint-hearted. It is one of the most challenging accreditations to achieve and that is exactly why LIUNA Training chose it. They wanted to be the best and they wanted to be judged and recognized by a respected third-party organization. The ANSI brand is known throughout the world as a standard of excellence, and now LIUNA Training is proud to be the only organization in the construction trades to carry the distinction of having an ANSI Accredited Instructor Certification Program.
The dedication of ANSI Certified Instructors cannot be overstated, not merely because of the impact they have in LIUNA classrooms from coast to coast, but because attaining Certified Instructor status is not easy. Every instructor, regardless of their experience must be assessed prior to beginning the road to certification. There are baseline scores in teaching methodology, math, reading comprehension and computer skills that need to be met. At a minimum it takes two years to become eligible to sit for the certification exam.
They learn the theories behind activity-based learning and then they have to put it into practice by planning and presenting lesson plans to a firing squad of seasoned facilitators. Being accredited by ANSI means that the process is unyielding, there are no short cuts along the way. The only way to Certification is to put in the work and hone your skills to meet the accreditation standards. Then finally, each instructor must pass the ANSI exam to be eligible for Certification.
This "buy in" to the process motivates all instructors to make a difference at their respective training centers by putting their new skills to use. They teach with energy and a renewed feeling of confidence that they're genuinely giving their students the best training out there. Ultimately, it's the people who become certified, and not the certification itself, that set the standard of excellence.
LIUNA instructors add to and refine their skills each year at the Annual Instructor Conference (AIC), LIUNA Training's showcase event. The AIC, through world-class facilitators, introduces new ideas, methods, and teaching tools that instructors' practice during the conference and bring back to their training sites to use in their member training. Once earned, certification must be maintained by participating in continuing education courses, Master Level programs and documented day-to-day training experience. It is a career-long process that helps ensure the most qualified instructors in the construction industry can be found at a LIUNA affiliated training facility.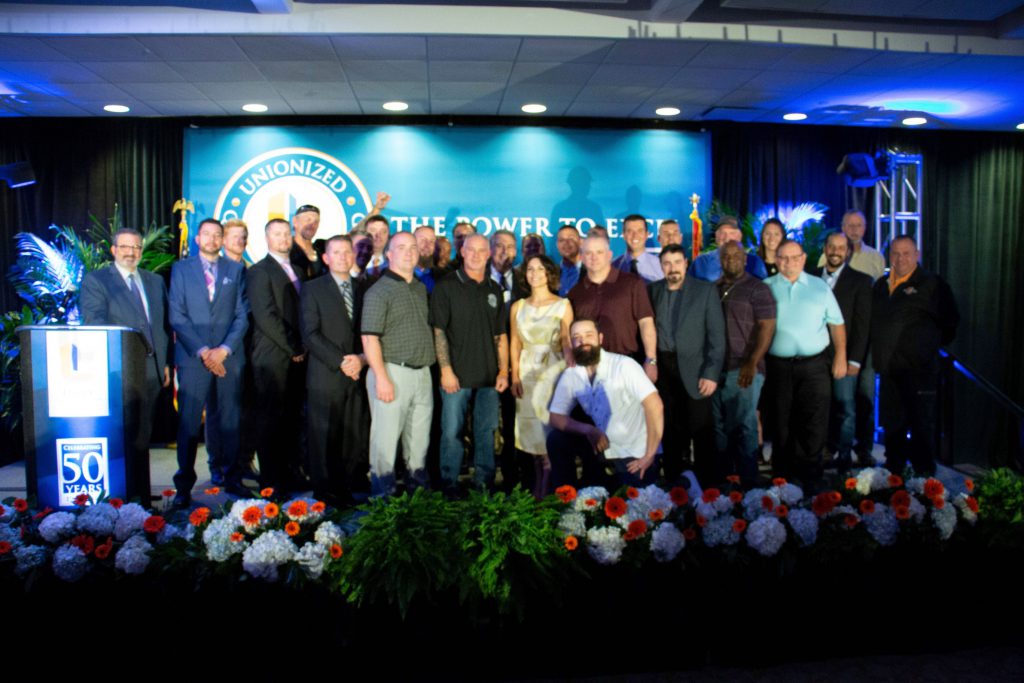 All this, of course, makes the graduation ceremony at the AIC each year a moment of pride for the instructors, their co-workers, their contractors, their union, and their families. The weight, recognition and importance of the ANSI accreditation remains an exhilarating highlight in the careers of every woman and man who has walked the stage to receive their diploma. Those who walk also hear the loudest roars of approval and enthusiastic applause from their colleagues because they understand the program, the path, and the process to certification.
Trained and certified instructors have a domino effect on LIUNA members. The training they receive as apprentices and journey-workers is dynamic, of the highest standards, and supportive. Workers become critical thinkers on the job making them more valuable to the contractors. Quality training helps ensure a safer, more efficient, and more productive workforce. In turn contractor satisfaction and competitiveness increases with every skilled LIUNA member. For LIUNA's signatory contractors, LIUNA Training's certification program provides quality assurance that translates to more work opportunities.
"I'll say it again and again; any organization can say they are the best. At LIUNA Training we leave nothing to chance," says LeConche. "True independent, third-party accreditation sets standards that must be met and maintained. We have been defined by quality for over 50 years and we will continue to do so for every year moving forward."