526 New LIUNA Journeypersons Ready to Build Southern California
A Record Number of Apprentices Graduate in 2016
January 18, 2017
Azusa, Calif. .–(BUSINESS WIRE)– The Laborers' Training and Retraining Trust of Southern California will graduate 526 apprentices to journeymen and journeywomen status on Saturday, January 21st. The Construction Craft Laborer Apprenticeship will graduate 507, the Laborers' Landscape & Irrigation Fitter Apprenticeship program will graduate 16, and the Laborers' Cement Mason Finisher Apprenticeship will graduate the first three journeypersons from that program.
"These new journeymen and women put in a lot of hours of training in the classroom and on the job, and sacrificed personally to graduate from their apprenticeship" said Armando Esparza, Business Manager of the Southern California District Council of Laborers (SCDCL). "Their effort strengthens this union and brings value to the construction industry. On behalf of the 25,000 LIUNA members in Southern California, we congratulate them on their accomplishment."
Before entering an apprenticeship program, candidates must attend an orientation, pass a drug test, and complete a boot camp to ensure they are ready for the physical demands of the industry. Depending upon the program the apprentice indentured into, each apprentice must complete between 224 and 432 hours of classroom instruction and log between 3,000 and 4,200 hours of on-the-job training to become a journeyperson. Apprentices are exposed to virtually all segments of the construction industry and receive Cal/OSHA required certifications and equipment endorsements.
"For these graduates and all those before them, this is not the end of the road for training," emphasized Scott Gordon, Laborers' School Executive Director. "We encourage all journeymen and women to continue their education at the training center so that they can expand their career opportunities. In fact, we've had some apprentices start their own construction company within a few years of graduating."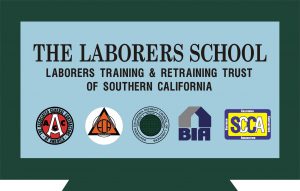 The Laborers' Training and Retraining Trust of Southern California is a partnership between the Laborers and their signatory contractors. The Laborers' School operates 12 facilities in Southern California that provide more than 100,000 hours of training every year. The Laborers' School also offers:
– 12 training sites and five mobile training units that bring training to any location
– More than 140 courses that meet or exceed industry standards
– Three California-Apprenticeship-Council-approved apprenticeship programs
– Instructors credentialed by the California Commission on Teacher Credentialing
– Training processes that are accredited (AC 371) by the International Accreditation Service (IAS)